Charging Electric Cars with Solar Power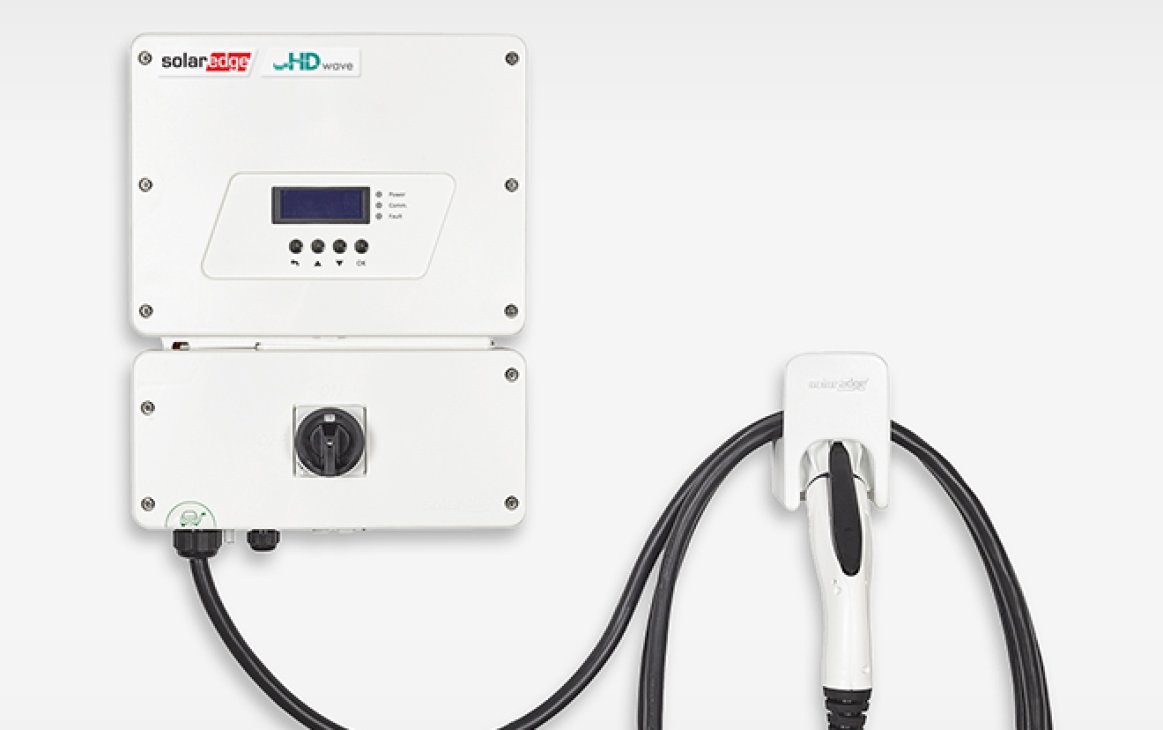 Owning an electric car that is charged by a solar power system is an excellent way to ensure your transportation is both cost-efficient and emissions-free. As electric vehicles (EVs) continue to shift market share away from traditional internal combustion engines, the world will see an increased demand for the rapid and efficient charging of lithium-ion batteries. As the opportunity to seamlessly integrate the EV charging process with residential solar grows, SolarEdge's new inverter-integrated EV charger promises to offer a more efficient, less expensive, and environmentally-friendly method of powering homes and cars.
Prior to discussing SolarEdge's new technology, it's important to understand the basics of coupling residential solar with EV chargers. Here are three key pieces of information to obtain prior to sizing a PV system for a home and EV:
Average electrical usage in the home accounting for minor DC to AC conversion losses.

Average electric vehicle power usage and manufacturer recharging guidelines.

The optimal size and type of PV system that would enable you to receive the maximum rebates, tax incentives, loan programs, and extended warranty benefits.
Considering various manufacturer guidelines, charging an electric vehicle from a full day's solar production in an unshaded area will require a PV system ranging from 2 kW - 14 kW. (Supplying power for a home of 3,000 ft.2 and an EV will likely require a PV system between 6kw - 18kw).
SolarEdge-Integrated EV Charger
To help accelerate the marriage of rooftop solar and EVs, solar inverter manufacturer SolarEdge has blazed a new trail with their HD Wave inverter and EV-integrated charger. Greentech Renewables anticipates selling the 7.6kW by the end of May. Here are a few reasons why the SolarEdge EV charging system offers the most comprehensive Solar PV / EV Charging solution on the market today:
1) Charging Speed
One of the greatest concerns with EV adoption is the lengthy amount of time required for charging car batteries. The SolarEdge Inverter-Integrated EV Charger allows for a speedier charge time than ever, due to its ability to combine instantaneous solar production with AC power from the grid at the same time. Using a "solar boost mode," EV owners can expect a full charge at a rate 6x faster than the standard Level 1 EV charger during optimal solar conditions. For example, where a standard Level 1 EV charger would add 5 miles per hour of charging, SolarEdge's solar boost yields between 25-30 miles in the same amount of time.
2) Advanced Monitoring Options
SolarEdge's EV Charging solution also offers monitoring capabilities for its users, giving them the ability to exercise meaningful control over their EV charging. More specifically, the system owner can tailor charging behavior around Time of Use (TOU) rates determined by the utility. This ensures the freedom and convenience to charge during rates yielding the best value charge, making EV charging as cost-effective as possible. Monitoring capabilities also give the user the appropriate online metrics, making sure the system works accordingly. This is synced with the SolarEdge online portal where the user can view the state of charge, grid usage, and other metrics through a smartphone, tablet, or computer.
3) Reduced Installation Time & Costs
Installers benefit from reduced installation costs with the SolarEdge HD wave with EV-integrated charger. First, the integrated nature of the product eliminates the need to install an individual EV charger and PV inverter. In addition, there is no need for a designated circuit breaker for the EV charger as it is embedded within the same unit. This results in reduced wiring, conduit, and the convenience of avoiding a potential main distribution panel saves installation time.
Greentech Renewables is expected to have availability of SolarEdge Inverter-Integrated EV Charger by the end of May with the additional option of integrated Revenue Grade Metering.
Please contact your dedicated Account Manager today to secure your availability and provide this forward-thinking solution for your EV customers.
Published
3 years 6 months ago