The ITC Step Down: Impact and Advocacy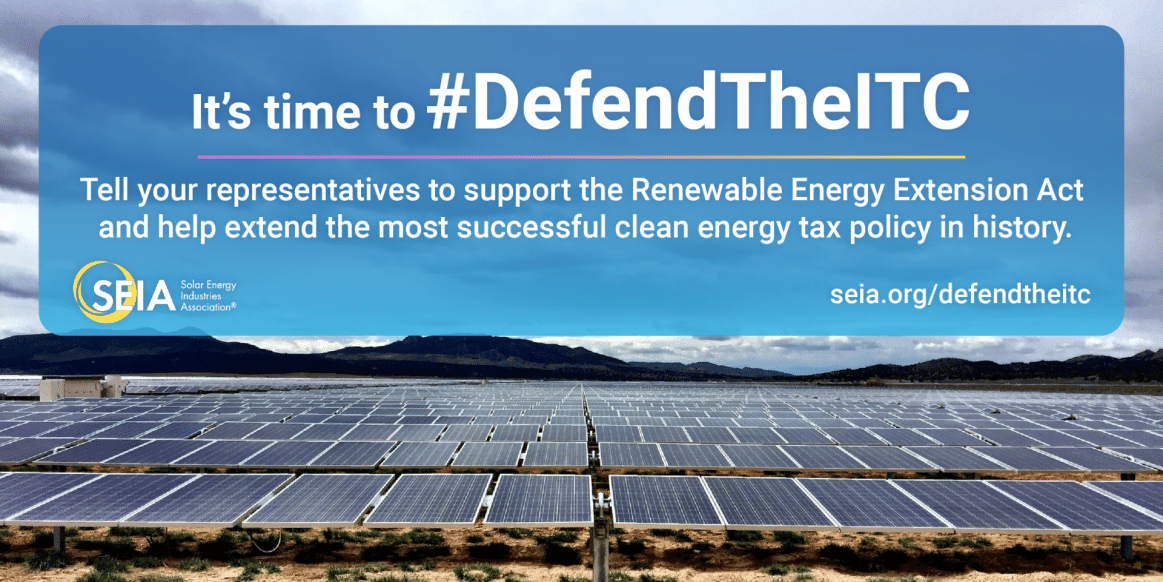 As discussed in our recent article, "Extending the 30% ITC in 2019", the solar industry is preparing for the scheduled Investment Tax Credit (ITC) step down at the end of the year. To summarize, the ITC is set to reduce from 30% to 26% in 2020 and 22% in 2021, finally settling at 10% for commercial projects and disappearing entirely for residential projects in 2022. In addition to being apprised of and prepared for the ITC step down to occur, is there any action that solar professionals can take towards preserving the ITC and extending the 30% tax rebate? According to the Solar Energy Industries Association (SEIA), absolutely.
On July 17, 2019, SEIA submitted a letter to Congress signed by over 900 solar companies, including Greentech Renewables, to make the case for the extension of the current form of the ITC. In this letter, SEIA credits the ITC with the creation of a quarter of a million jobs, the reduction of consumer electricity costs, and $140 billion in investment since its initial implementation in 2005. Noting particularly strong solar job growth in the Midwest and the Southeast, the letter states that "solar installer" could soon become the fastest-growing occupation in the US. While a 50% year-over-year increase is substantial for solar job growth, solar only accounts for 2.3% of US energy generation, leaving room for immense growth- growth that would receive critical support from an extension of the tax credit that has allowed the solar industry to advance to its current strong state.
At 240,000 individuals strong, the power of the voices of the solar industry should not be underestimated- particularly those of small-to-medium business owners. Representatives in Congress are eager to support business in their districts! For those who agree with SEIA and wish to advocate for an extension to the ITC, here are some simple steps to mobilize your company to take part in this effort: 
Contact your representatives in the House and the Senate and let them know how the ITC has impacted you, your business, and your community. 

Use social media to tell your story and use the hashtag #DefendTheITC to create a collective voice for the solar industry across platforms. 

Get in touch with SEIA and review the numerous resources shared toward this effort. 

Submit a testimonial to support SEIA's campaign. 
Solar professionals enjoy the privilege of witnessing the benefits of solar energy in their communities every day. Following a long-standing history of advocacy, the solar industry is capable of making its voice heard once again in the effort to preserve a policy which will allow these benefits to continue.
Sources:
https://www.seia.org/research-resources/solar-industry-letter-congress-extend-itc
U.S. solar sector launches lobbying push to preserve key subsidy
Published
3 years 7 months ago
Support keywords
Investment Tax Credit
Renewable energy policy
SEIA
ITC Stepdown
federal tax incentives