PV Monitoring: Why It Matters
To solar integrators robust solar monitoring provide the following advantages:
1)    Allows contractors to provide transparency and education in customer conversation.
2)    Gives more responsive service with O & M situations.
3)    Helps close more sales.
Solar customers want to visualize how much good their array contributes to the planet and their pocketbook. "Monitoring is a big part of the game for most of my customers," explains Eric Peterman, co-founder of GRNE Solar. "They are super engaged and educated… they like to validate the offset they are to expect."
For instance, the Solaredge monitoring online portal offers a year-on-year energy production comparison and CO2 emissions avoided, instead of having to walk to the wall mounted inverter and read its instantaneous production. Mark and Stacey Schmid, owners of Range Solar, highlight: "Our favorite feature of the Enphase Enlighten is seeing how many stadiums or houses you can power and the carbon offset—all from your phone." Jon Dixon of Dixion Power asserted, monitoring is just something that customers expect.  Here's a great review of the current SolarEdge monitoring offering:
Module level monitoring streamlines operations and maintenance service. Instead of hunting on the roof for a malfunctioning panel on a string, module level power electronics allow installers to troubleshoot the issue through monitoring with manufacture tech support before they have to send a truck to the jobs site, saving time and money. One of the problems with the first generation of monitoring via wifi router was that a malfunction in the router disconnected monitoring. GSM wireless monitoring allows for uninterrupted solar monitoring via satellite signals.  
Solar Monitoring is a great sales and marketing tool for future prospects. "Everyone is on their smart phone these days and they like to show off the their friends and family how many kWh their system has produced." Peterman elaborated about the SolarEdge systems he has installed across the midwest. Many installers agreed that showing monitoring from other similar systems help build customer confidence.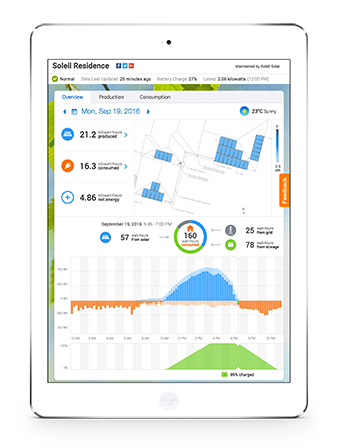 The ability to monitor on a module level remotely from a smartphone or a desktop signifies a major shift toward transparency in residential and commercial solar. As grid tied solar + storage increases in prominence, monitoring will act as the linchpin of the systems functions for demand charges. Robust monitoring is changing how consumer think and feel about solar.  Installers would be doing themselves and their customers a disservice by not providing robust monitoring offerings.
Published
6 years 2 months ago