Smart EV Charging with Wallbox
Greentech Renewables partners with some of the top solar manufacturers across the globe to provide our customers with the latest technology, high-quality products, and access to the most innovative professionals in the solar industry. EV charging stations began to make their way into the American solar market in 2013 following the surge in electric car production. This area of the solar industry has since grown immensely. As we know, electric vehicles can be more cost-effective and less harmful to the environment, as they help lower smog and greenhouse gas emissions. In 2019, the US reportedly imported 3% of the petroleum consumed, with transportation accounting for about 30% of total US energy needs, according to the US Department of Energy. The increasing popularity of electric vehicles helps combat the amount of petroleum the US imports, emphasizing the need for EV charging. 
In 2020, California Governor Gavin Newsom announced an executive order that will drastically phase out gasoline-powered cars in an effort to reduce the demand for fossil fuels in the state. Governor Newsom's executive order was instituted to move the state away from its reliance on "climate change-causing fossil fuels" and create job opportunities for economic growth, according to a press release from the Office of Governor Gavin Newsom. The order will require all new passenger vehicles to be zero-emission by 2035. What this means for us is that the EV market will continue to flourish over the next few years, increasing the demand for EV charging stations. One of the industry leaders in EV charging is Wallbox, a global company dedicated to creating smart, cutting-edge EV charging solutions. One of their latest products is the smart Pulsar Plus EV charger. This product has a compact design, making it easy to install with technology that promotes powerful performance for faster electrical vehicle charging that accommodates any electric car on the market. 
Pulsar Plus technology gives customers access to one platform that connects between their car, charger, location, and smart device for convenient monitoring and management. The onboard intelligence allows customers to manage schedules even if there is no internet access. The Wallbox Pulsar Plus is a 240V, Level 2 EV charging solution with capabilities of delivering up to 11.5kW of charging power. The power-sharing feature allows for up to 25 pulsar plus chargers that can be connected to a single electrical circuit. The compact design is UL Listed and NEMA type 4 rated watertight, making it safe for indoor and outdoor installations. Pulsar Plus is also eligible for federal, state, and local tax credits where available. This innovative new charger is just one of the many smart EV solutions that Wallbox offers. As demand for EVs is certain to vastly increase in accordance with national standards over the next decade, ensuring your supply of charging products will be crucial to staying ahead of the curve. There's no time to waste in terms of preparing for the EV charging wave. It's already here. Want to place your order today? Contact your local CED representative!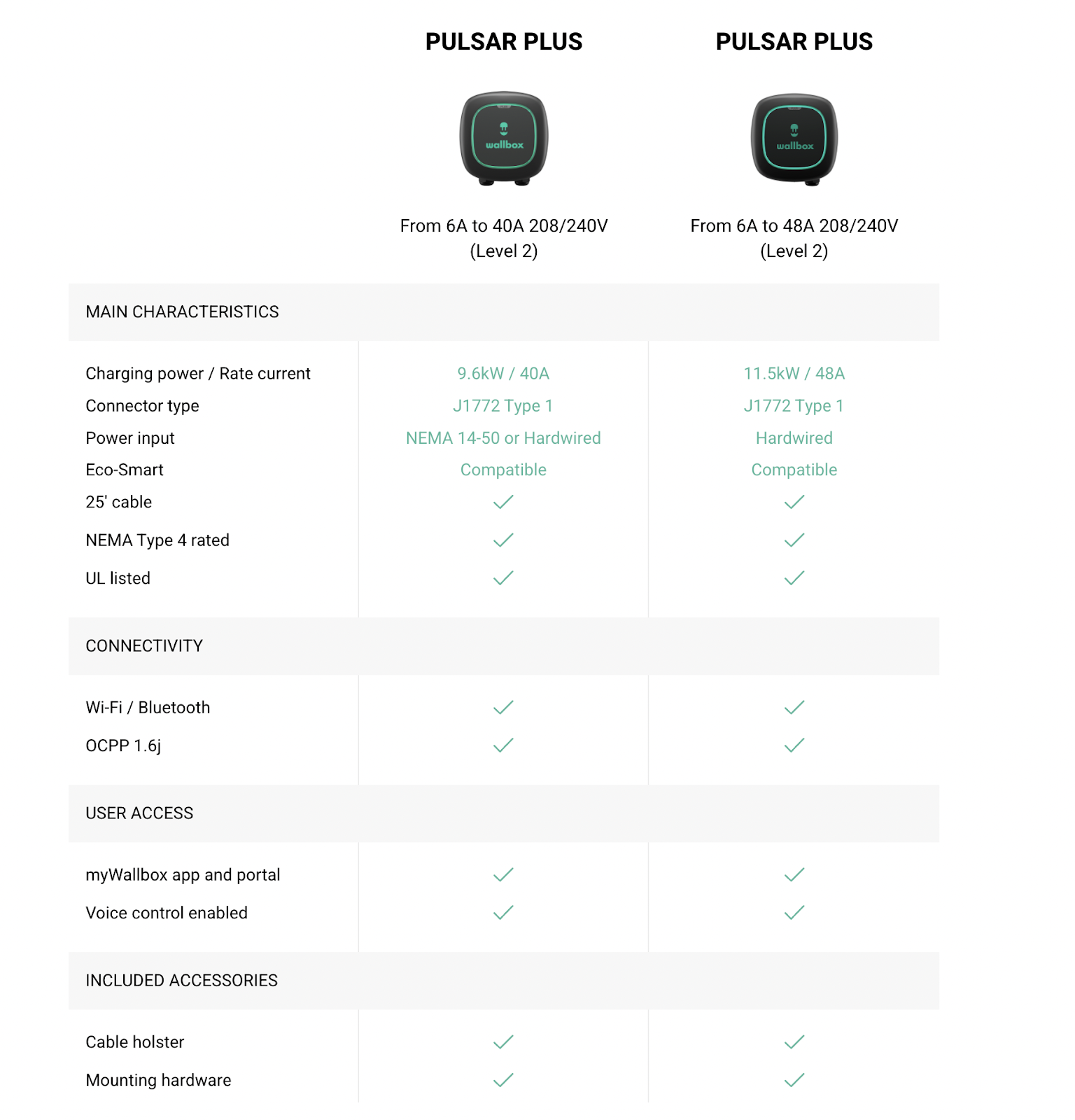 Support keywords
EV
electric car
electric vehicle
battery charge