XR Rail Family - Updates, Value Proposition & Talking Points

Product Updates
IronRidge is expanding its XR Rail Family to include three size options: XR10, XR100 & XR1000. These options replace XRS & XRL.
In addition, we've improved both the pricing and features of many of the other Roof Mount products.
Value Proposition
Each XR Rail size is targeted to support specific spans and design loads, while minimizing material costs.
Using Design Assistant, we evaluated the cost of 36x array configurations at 6' spans. This analysis included pricing of the rails, L-feet, clamps, splices & lugs.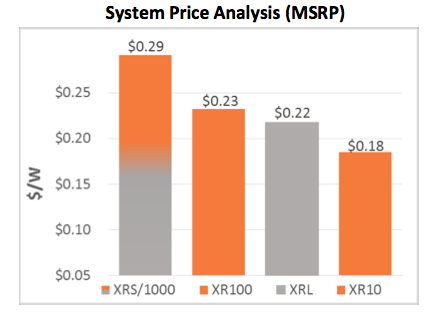 Talking Points
| | | |
| --- | --- | --- |
| | |   |
| | Targeted options to balance cost & performance | Eliminates over-engineering and excess cost |
| | Reinforces both vertical and lateral force directions | Greater resistance to bending and twisting |
| | The Heavyweight. 12' spanning capability. Extreme load capability. | Built for extreme climates and commercial and ground mount applications. |
| | The Ultimate Residential Rail. 8' spanning capability. Heavy load capability. | Superior performance in Northeast and high wind regions. |
| | Low-profile Residential Rail. 6' spanning capability. Moderate load capability. | Attractive appearance; built for the West & Southwest; superior cost-effectiveness |
| | Quick installation; Maintains aesthetic appearance; Doesn't block the L-foot slot | Avoids confusion and re-work on the roof |
| | Protects against surface and structural corrosion | Superior aesthetics; No "crust" during maintenance |
| Integrated Grounding (UL 2703) | Grounding Mid Clamps bond modules and rails. No WEEBs or Lay-in lugs; 50% reduction in rail grounding. | Reduces the time and cost associated with equipment grounding |
| | Top-mounting solution for rail grounding | Eliminates pre-drilling and lug assembly time |
| | Drop-in assembly of the rails | |
| | New snap-in design; Beveled edges | Secure installation; Sleek, "finished" look |
Published
9 years 8 months ago