A Guide to Metal Roof Solar Installation
Greentech Renewables has organized crucial insights to help solar installers understand the most cost-effective and safest options when working on metal roof solar installations. The following article covers various metal roof types and their associated racking methods, reviews industry-leading metal roof racking equipment, and offers best practices in installing PV systems on metal roofs.
Solar installers understand that metal roof projects require different installation methods and thorough knowledge of the appropriate clamps, brackets, and racking products for the job. The prevalence of metal roofs has grown in both residential homes and commercial buildings, marked by an increase in market share on residential properties from 12% in 2019 to 17% in 2021. As of 2022, one-third of all commercial buildings in the US employ metal roofs, given their long-term durability, lightness, and strength.

Professionals suggest that metal roofs in new residential builds and repairs are more prevalent in regions with consistently powerful storms and high winds, such as the Southeastern US, where the metal roofing industry has a 30% market share. In this region, standing seam metal roofing is the primary choice for homeowners because it allows interlocking in a sleek, flexible way due to the metal panels that connect via raised seams a few inches above the roof surface. However, residential metal roofs in regions such as the Pacific Northwest and the Rockies lean towards the metal shingle (Builder Online). The images below compare a metal shingle roof and a standing seam roof.
Commercial installations across the nation employ many varieties of metal roofing methods. Note that local codes heavily influence metal roof selection, so a solar installer in one locality may experience a concentration of one specific form over another. Exposed fastener metal roofing consists of metal panels directly attached to the structural framing with a visible fastener not hidden by a seam. This metal roof type is considered more economical but less aesthetically pleasing and is universal across agricultural and industrial buildings. Corrugated metal roofing is another standard method in commercial roof landscapes where rolling textured siding attaches with fasteners penetrating the metal panels. This application is also typical in large-scale storage, agricultural, and other commercial buildings.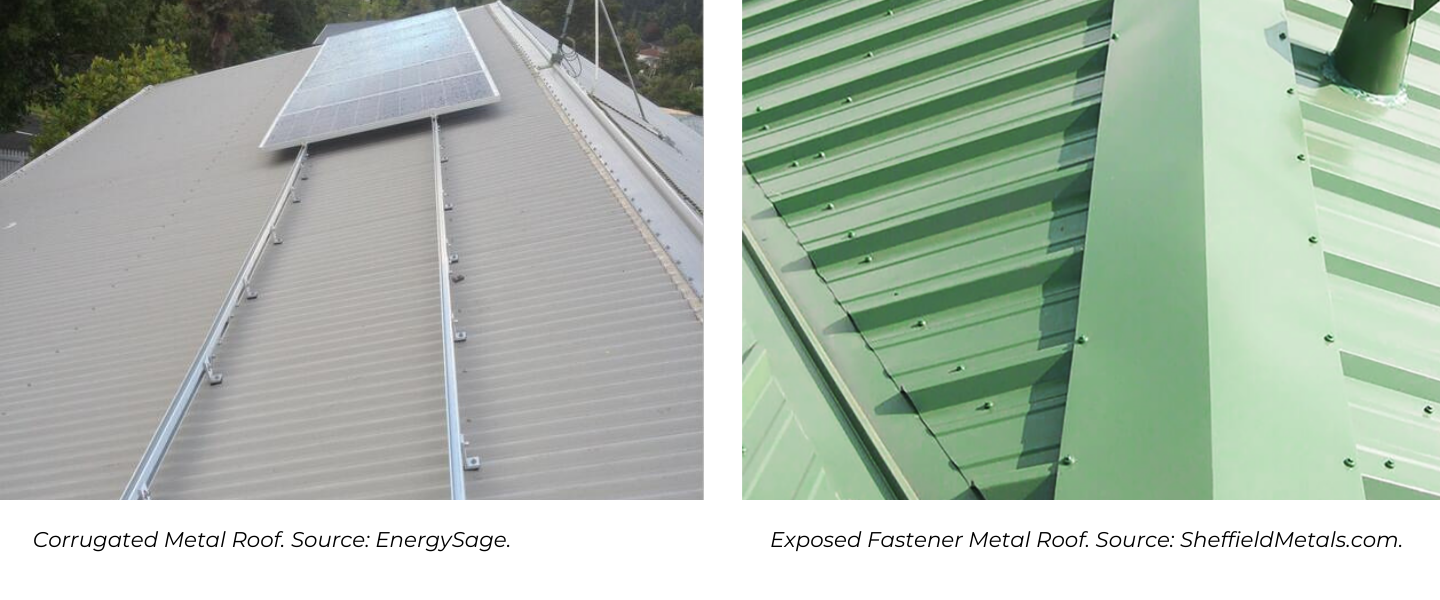 Insurance companies offer incentives for strong, more reliable roof materials, as they are estimated to survive intense weather conditions and high heat for 40-70 years, nearly doubling the life expectancy of a PV system. Along with being one of the longest-lasting roof types, metal roofing is incredibly lightweight and does not require roof deck reinforcement. They support both the live and dead-weight of solar installations with ease. Furthermore, many recently installed metal roofs include reflective paint mixtures that help keep temperatures down, increasing solar module efficiency.
Installing Solar on a Standing Seam Metal Roof
Conveniently, installing solar on a standing seam metal roof does not require drilling holes, decreasing the risk of leakage or damage. Multiple manufacturers have developed specific solutions for standing seam roofs where clamps are attached to the vertical ribs of the roof panels' edges. IronRidge offers a sturdy, non-penetrative standing seam metal clamp designed for ease and compatibility with their respective L-foot and Rail products. The QuickMount® Lynx® Metal Roof Attachment clamp can also support other racking platforms as a durable, watertight installation option for standing seam metal roofs. SnapNRack also offers a robust, cost-effective standing seam metal clamp that does not penetrate the roof or risk collapsing the ridge in the metal roof material (read more here). S-5! offers another competitive standing seam metal clamp, the S-5-S, that has set the industry standard for a long time. This article contains discourse surrounding standing seam roof applications and unique problem-solving methods that some of our installer customers use.
Installing Solar on a Corrugated Metal Roof
Although standing seam roofs are considered one of the most compatible with solar, there are several specific mounting options designed for corrugated metal roofs. S-5! produces a Corrubracket for Corrugated roofs designed for pitched roofs with rail-based installations. EJOT also makes a stainless steel hanger bolt with a sealing washer designed for easy and rapid anchoring into metal substructures. This corrugated solar fastening system exists in several classifications, including trapezoidal and sinusoidal roof types.

The primary challenge in mounting solar on a metal roof is that brackets must attach using penetrative fasteners. The crucial step in this installation is to use a proper sealant to cover the holes, preventing water leakage, which can later cause severe damage to the roof. The S-5! Corrubracket includes a factory-applied butyl sealant in its base, a suitable option for efficiency and ease of installation. However, it is crucial to check with the roof manufacturer's warranty before installing solar on a corrugated metal roof, as penetrations can sometimes void the warranty.
Installing Solar on an Exposed Fastener Metal Roof
Installers have access to a variety of options for exposed fastener metal roofs. Given their structural rigidity compared to the standing seam metal roof, exposed fastener metal roofs have less impact from temperature expansion. Weather-proofing also requires meticulous attention, particularly given the exposed fastener's vulnerability to the elements. Thus, selecting a corrosion-resistant sealant or a weather-proof rated mount is essential for this type of metal roofing. An exposed fastener metal roof may also require a high-mount clamp solution that sits atop the water plane. Installers should consider all of these factors when designing a solar array for an exposed fastener metal roof.

There are various solid options for sturdy, long-lasting attachments for this type of roof. S-5! produces the RibBracket, a trapezoidal clamp with a high profile that allows space between the modules and metal roof panels. Multiple sizes of the RibBracket can accommodate the widths of different seams and dimensions. Another option for exposed fastener metal roofs is the Rooftech RT-MINI II. The RT-MINI is a flexible mounting option that lends itself to roofs of any slope or material. This option is waterproof and cost-effective for certain exposed fastener roofs without drilling pilot holes.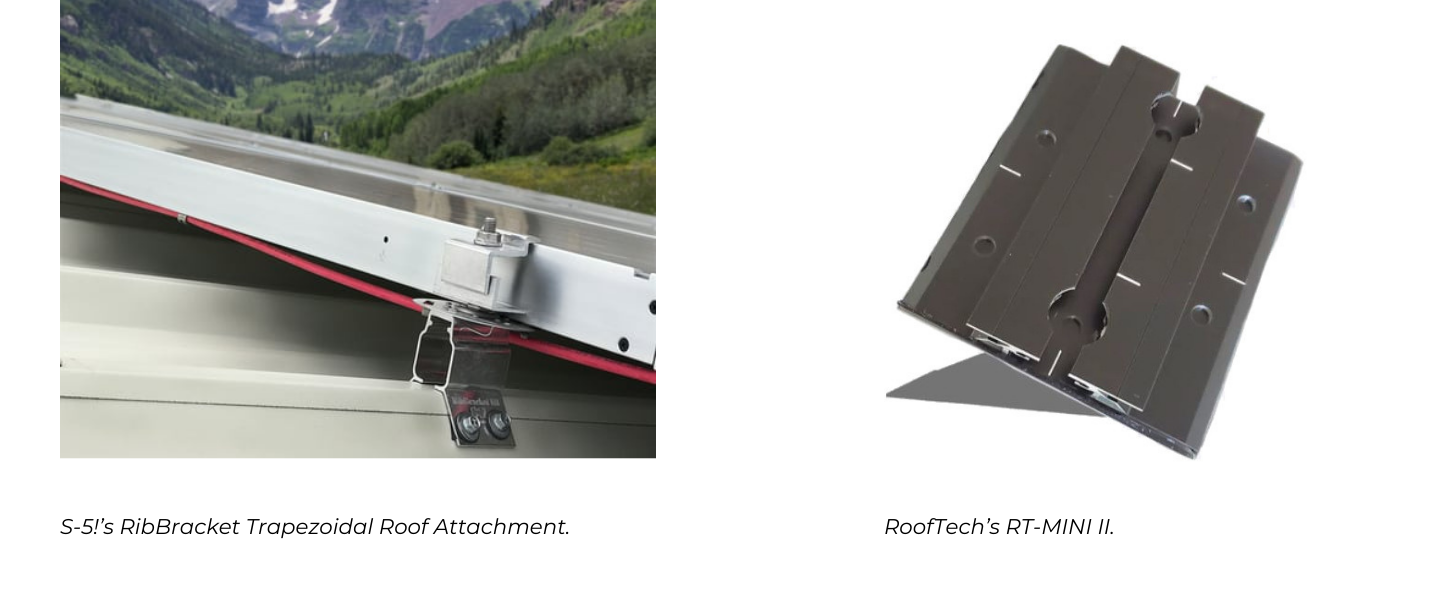 Primary Takeaways
Though metal roofs are generally a resilient option for homeowners or commercial property owners alike, proper consideration is necessary for these metal materials to avoid the elements causing issues in the future. As a solar installer or roofing contractor, it is imperative to use UL-listed sealants and attachments to protect your customer's investments long-term. Explore the Greentech Renewables solar racking resources page to learn more about best practices for metal roof mount installation. Greentech Renewables' knowledgeable teams are ready to guide you through the safest, most cost-effective installation options available to bolster your solar business. Reach out today to connect with the most reliable solar distributor in the nation.
Published
2 months 1 week ago