Ground-Mount Racking Systems, What to Use and When
This is an update on our Solar Ground Mounts: How Do I Choose article from 2018. We will go through some of the current ground mount options available for installation. First, we will also go into some of the benefits of ground-mounted arrays versus roof racking. 
Cost and benefits 
As most of you know ground-mounted arrays, as their name suggests, are solar arrays that are anchored in the ground. Usually, the arrays are supported by galvanized steel and/or aluminum structures. The support structures are anchored to the earth using foundations consisting of driven piles, helical piles, ground screws, concrete footings, concrete ballast, or a mixture of these components. The type of foundation used is based mainly on soil properties as well as the geometry of the foundation. For example, if the soil is free of large rocks or debris a driven pile foundation is typically used. More information on when to use which foundation can be found here.    
Traditionally, ground mount racking is used for large commercial projects. This is due to the fact that ground mount systems are more costly to install than traditional roofing solutions. This is due to the cost of equipment used, the fact that more equipment must be used, and a more expensive permitting process. Therefore, it makes more sense for contractors to only install these systems when the project is on a larger scale than a traditional residential system. But, ground mounts do have certain advantages for property owners over traditional roof racking systems. For one, they are much easier to access and clean – this is especially helpful if you are working in drier climates where sand or other materials can end up on panels, diminishing their efficiency. Ground systems can also be more productive. Because ground mounts can be positioned anywhere and aren't confined to the dimensions of the roof of a project, they can also be installed at the ideal location that will maximize output. Typically, in the US, this ideal location is with the solar array facing south.  Secondly, if there is not enough available open roof space or the space isn't usable while there is accessible open ground space, ground mounts become a perfect option. Now that we've reviewed some of the costs and benefits of installing a ground-mounted array, let's look at what products are available today. 
Current Solutions 
First we have Ironridge's ground mount system, which combines their XR100 or XR1000 rails to create an ideal ground mount solution. The system can be used with multiple different foundations and requires no heavy machinery to install. The system is compatible with most modules that have 35mm or 40mm frames and for some modules with larger or smaller frames. More information can be found in the installation manual which is available here.
Next is Unirac's Ground Fixed Tilt (GFT), which is available at 20° and 30° tilt options. The GFT is capable of mounting 60 or 72 cell modules. Each array is capable of stacking two rows of panels on top of each other. The installation guide, available here, provides easy directions on how to install this ground mount racking system.
SnapNrack has its Series 200 ground mount system. As seen above, the Series 200 is capable of a 2.3 or 4 module high assembly. SnapNrack believes that this product is ideal for small to medium-sized ground-mounted projects; this is due to its ability to optimize the number of materials needed and the minimal size of this solution. SnapNrack also has a configuration tool specifically designed for the Series 200. The tool allows contractors to input the module, soil conditions, and additional project information so that you can know what your ground mount project's needs are. More installation information can be found here. 
Upcoming Solution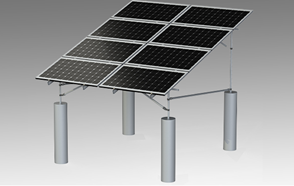 K2's Everest Solar Systems has a patent pending for a new product not yet available, their CrossRail ground mount system. While limited information is available, this new product is expected to be capable of deployment in most soil types and it will be a 4-row system. More product information can be found here.
Published
2 years 6 months ago